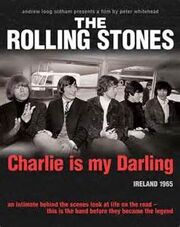 Charlie Is My Darling" was a very short tour that happened in Ireland in 1965. It had only 2 performances, both in a different city.
Andrew Loog Oldham
, manager of the Rolling Stones from 1963 - 1969, hired a camera crew to film one of the concerts.
(I Can't Get No) Satisfaction
 was performed during this tour, and soon became the world's #1 Song on the charts.
Ad blocker interference detected!
Wikia is a free-to-use site that makes money from advertising. We have a modified experience for viewers using ad blockers

Wikia is not accessible if you've made further modifications. Remove the custom ad blocker rule(s) and the page will load as expected.