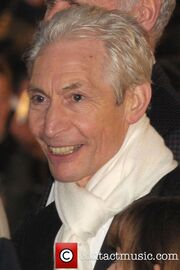 Charles Robert "Charlie" Watts (born June 2nd,1941) is an English musician best known as drummer of
The Rolling Stones
. He has been associated with the ABC&D of Boogie Woogie, the Charlie Watts Tentet, and Blues Incorporated, and various acts with solo artists. In the 1980's, an intoxicated 
Mick Jagger
phoned Watts and asked, "Where's my drummer?" Charlie walked over and punched Mick in the face saying, "Don't ever call me your drummer again, your my singer!"  In 2004, Charlie was diagnosed with throat cancer, even though he quit smoking in the 1980's. He has had radiotherapy, and the cancer has dispersed.
Ad blocker interference detected!
Wikia is a free-to-use site that makes money from advertising. We have a modified experience for viewers using ad blockers

Wikia is not accessible if you've made further modifications. Remove the custom ad blocker rule(s) and the page will load as expected.